The world is about reactions
Support and care in process management, as well as using the proper cleaning agents are vital ingredients. Whatever you want to do – remove lubricants or paint coat, get rid of shavings or solve any other problem – we have the solution. Specific challenges require specific solutions. Check which product will solve your problems at once.
SEE CHEMICALS
It's all about the bath
Effective chemicals work for you, eliminating the need of mechanical or manual contaminant removal. Combined with the proper machine, it becomes an even more efficient and time-effective solution.
Cleaning and degreasing
Coating removal
Corrosion protection
Cleaning in accordance with VDA 19.1 and ISO16232 norms
Surface preparation for painting
Corrosion and metal oxide removal
Profit flow
2 times higher component production safety level

20h time saved on cleaning process
The benefits of Noyen chemicals are measurable and countable. If your needs are so atypical, we have no ready solution, please: tell us about it.
FIND OTHER POSSIBILITIES
Instant reaction
Equipped with a number of questions and tested processes, we will help you determine the key challenges, prepare a plan and define the solutions. You just need to tell us what your problem is. There is a 90% likelihood we will solve it during our first conversation. Whether you decide to keep going is 100% on you.
GET YOUR STRATEGY SESSION
Simply brilliant.
97%
of our Customers need atypical solutions. We can choose or even modify the Noyen formula to better suit the challenges posed by your process. When creating our cleaning products, we listen to our Customers' requirements. We will be happy to know yours.
TALK TO A SPECIALIST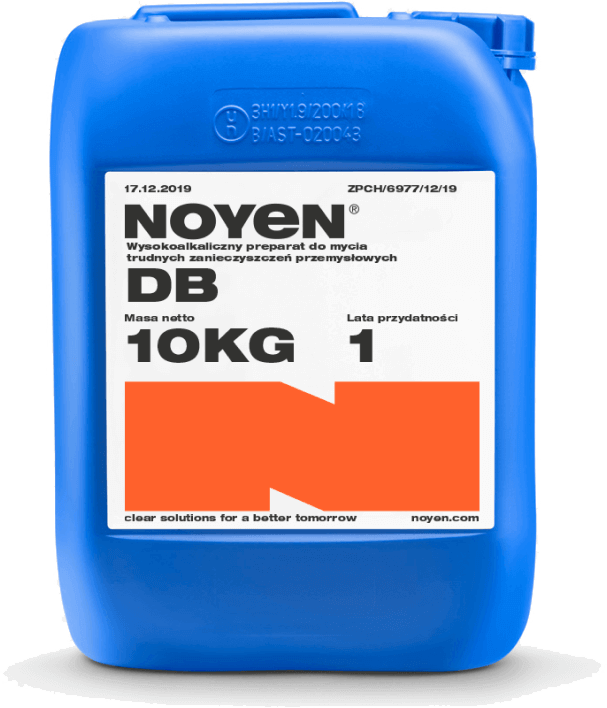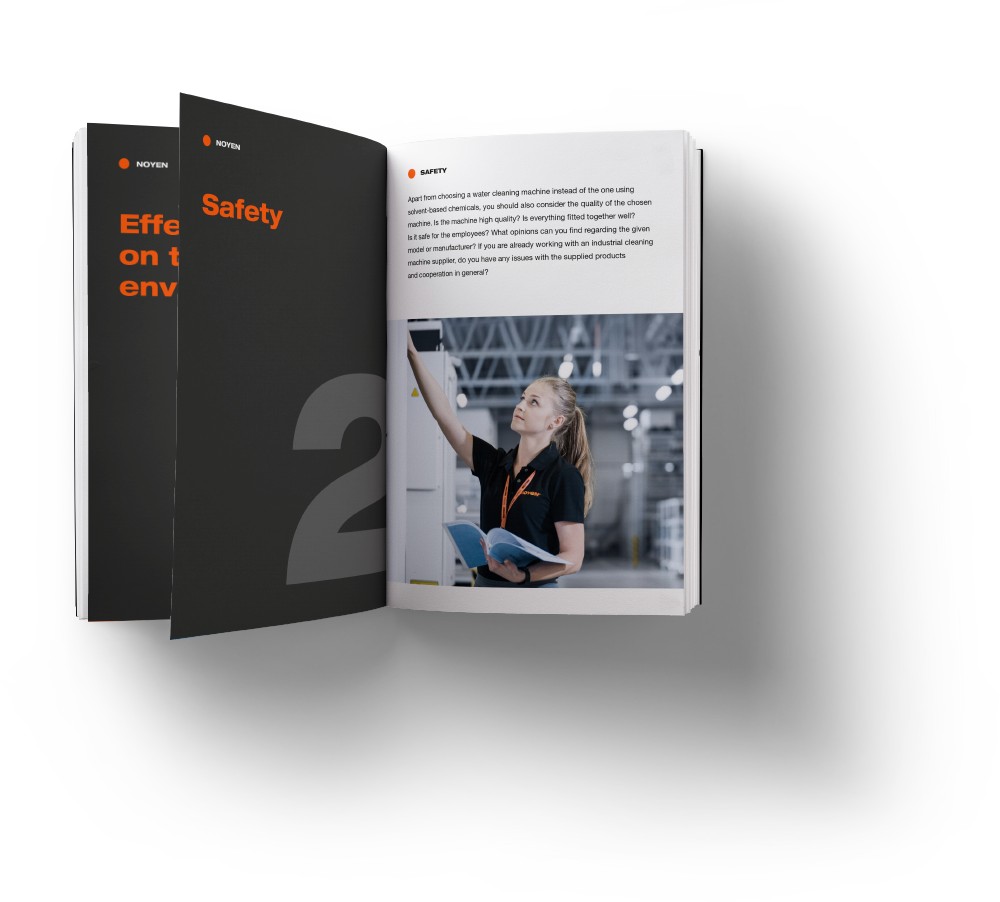 When you run out of steam
Solving problems with industrial parts cleaning is our bread and butter. Check out 5 things to consider when choosing a basic machine for industrial parts cleaning and draw conclusions that could vastly improve your work quality.
Bulletproof process
Noyen designs and builds cleaning machines, automation, chemicals and much more. Everything is adjusted to your individual needs. The product creation process is always based on consultation. Before we present you with an offer, we determine the requirements and specifics of the solution. We conduct cleaning tests on parts, do initial try-ons – everything to find and offer you the best solution possible.
You can see our progress at every stage of production, for example in the form of 3D models. You can always count on our support. We will train your employees in machine operation and our service team will oversee the machine's work after it is started.
We determine the requirements and specifics of the solution
We perform process testing
We make the progress available to see
We support you during implementation
We train your employees in machine operation and use
TALK TO A SPECIALIST
We set industry standards
We know it is not enough to have perfect products. They also have to be adjusted to the specific needs of various industries. Hundreds of companies use our solutions in following industries:
Automotive

Aerospace

Fasteners

Metalworking

Coating and sanding

Medical

Printing

Remanufacturing

Home appliance

Electronics

Construction

Railway
Nothing is impossible.
It will be easier if you just tell us everything. Save your time and make use of your free consultation. Our expert will advise you for free.
Get even more out of chemicals.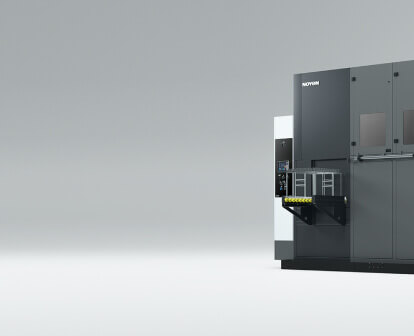 Machines
Specific challenges require specific solutions. Check if Noyen machines can immediately solve your problems.
SEE MORE DETAILS
Servicing
Our machines are supported in every part of the world with modern technology and innovation. The service team will help you face every challenge so that your production will not have to stop even for a moment.
SEE MORE DETAILS
Training
Efficient use of resources, correct use of products and machines, sustainable growth – this can all be learned. We can share the knowledge we amassed during 20 years of our experience with your company, during interesting training sessions.
CONTACT US
Industrial chemicals and their meaning in the industry
Industrial chemicals play a very significant role in the industry. Well-selected cleaning agents are crucial for the optimization of the cleaning processes in the company. This issue is essential from the point of view of both manufacturer and a client. Thanks to the well-selected agents, the costs can be reduced and the quality of the service – improved. What are the other benefits connected with the right choice of specialized industrial chemicals?
What are industrial chemicals?
Professional industrial chemicals are considered one of the main factors influencing the quality and costs of industrial cleaning. Therefore, so the production process can run smoothly, cleaning agents should be as efficient and effective as possible. Appropriate adjustment of specialized industrial chemicals to the specificity of the process, parts and the type of contamination, allows for example extending the life of the cleaning bath, which translates into an increase in the efficiency of the cleaning process. As a result, the consumption of utilities and cleaning agents decreases. Using a cleaning agent that was properly selected in terms of particular process parameters allows optimizing other parameters of cleaning, such as the concentration of cleaning agent, the temperature of the process, or shortening the process duration. Such changes may translate into cost reduction and improvement of the quality what allows conscious development of the company, its offer and directly influences the competitiveness of the business.
Professional industrial chemicals
Industrial cleaning is extremely important during the production processes in many industrial sectors. Therefore, the selection of proper cleaning agents is necessary. Specialized industrial chemicals are intended for removing different kinds of contamination that may appear during many industrial processes. In the case of retail products, versatility is a key to success, whereas in the case of industrial cleaning, it is worth choosing a professional cleaning agent intended for cleaning a particular group of materials and removing a particular group of contamination, adjusted to the character of the process. The most important factor while choosing professional industrial chemicals should be their designation. NOYEN offers industrial chemicals fully adjusted to specific parameters of the processes, e.g. chemicals for steel or aluminium cleaning and degreasing as well as surface preparation for coating. Other groups of products are the ones for carbon deposit, mill scale and corrosion removal. NOYEN offers also agents for cleaning for the VDA 19.1 and ISO:16232 standards. Chemicals in the industry are also used in the final stage of the production process for example in order to protect the surface with agents that provide anti-corrosion protection for the duration of storage or transport.
NOYEN top 10 industrial chemicals
Many industrial chemicals suppliers rank their products, e.g. depending on the amount of the product sold. We divide our products into different categories and strive to ensure the highest quality. NOYEN's offer includes professional steel and aluminium cleaning detergents, products for corrosion removal and many more. When manufacturing industrial chemicals in NOYEN, we strive to maintain the highest quality standards of the cleaning process, ensuring the highest possible efficiency. The vast majority of our products are water-based and not classified as dangerous to humans, animals and the environment. Another advantage of NOYEN industrial chemicals is non-flammability and the absence of volatile organic compounds in the composition – these features ensure the safety of employees and allow the use of products in many types of machines. The appropriate selection of the offered professional industrial chemicals means, among other things, that these agents will be safe for the surfaces being processed, without causing degradation and destruction. Our chemicals for the industry are dedicated to many types of contaminations and cleaning processes carried out at various stages of production. Due to the huge variety and nature of the observed contamination, an individual approach to the problem is required. In such cases, in addition to the selection of professional industrial chemicals from the standard offer, we can adjust the selected formulation to specific client needs or create a formula tailored to a specific type of contamination from scratch. As a result, the efficiency of the process and the quality of cleaning results are maximized and often exceed clients' expectations. This allows the maximum increase in the efficiency of the process and cleaning effects, meeting the most sophisticated needs of the clients.