Process automation
Fully automated
Automation saves time, makes work easier and increases efficiency. Lets you focus on really important and creative tasks. See the machines that work together perfectly.
Your next investment could operate itself
The automation you need can be either made completely from scratch, or connected with already existing equipment and processes. No matter how advanced your production line is, our realizations will let you develop, save money and increase efficiency.
Welding, packaging, painting, pick&place or other production processes need a specific action sequence. No matter if you choose a ready solution or need one built from scratch, you will always gain exceptional precision, repeatability and predictable effect – 100% fit for your business.
SEE THE MACHINES
Reduce the costs. Automatically
4 times higher production efficiency

40h team work redirected to more important tasks

3 times more effective cleaning

75% faster part cleaning
Reduce downtime, increase safety and automate repeatable tasks, making the process more repeatable and predictable. Integrate Noyen machines with loading, unloading or machining devices. No limits. The only boundary is the profit you expect.
FIND OTHER POSSIBILITIES
Automation from A to Z
Equipped with a number of questions and tested processes, we will help you determine the key challenges, prepare a plan and define the solutions. You just need to tell us what your problem is. There is a 90% likelihood we will solve it during our first conversation. Whether you decide to keep going is 100% on you.
GET YOUR STRATEGY SESSION
Automation leader
Process automation is there to work for you, not the other way round. So each change is designed for maximum efficiency and the work of each machine – constantly monitored. You can make more changes or extend the production line when you expand your machine park to achieve new goals.
Robotics
Employee of the month. Each month.
When there is no place for the margin of error, you need systems that can take care of everything. The possibilities of expansion and adaptation create endless potential for use. Create a process that will take care of machining, cleaning, loading and unloading – and even more.
FIND OUT MORE

Metrics
Outstandingly repeatable
In production environment, precisely measuring the component diameter could be challenging. Metrics provides control over the elements. Using calibration templates allows to regularly check measurement correctness and automatically calibrate the system – without bothering the operator.
FIND OUT MORE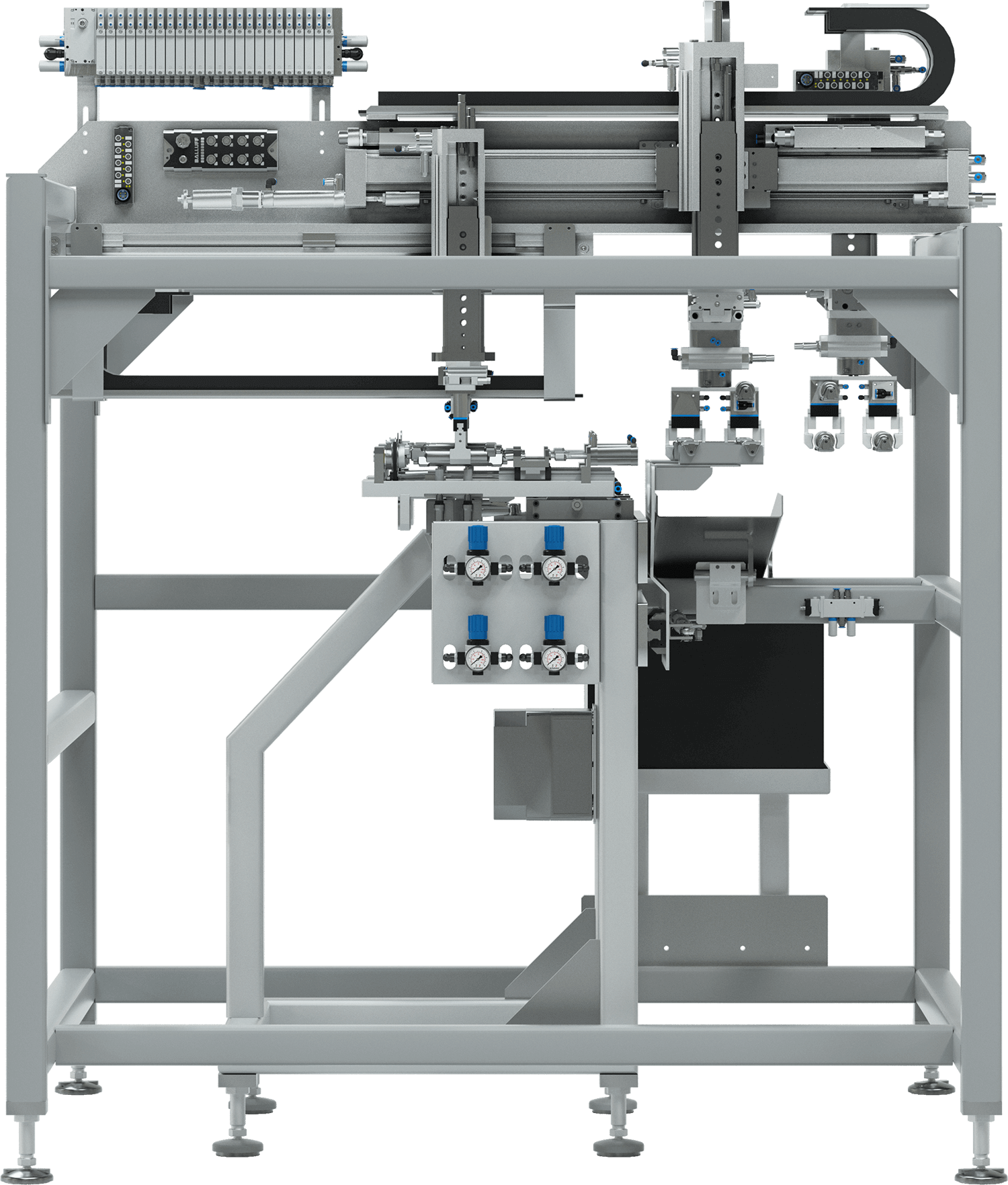 Partly manual? That's fine too!
97%
of our Customers require atypical solutions
We can design and produce automation fitted to your individual needs. Our machines are always made based on the Customer's requirements. We know you are looking for custom solutions.
TALK TO A SPECIALIST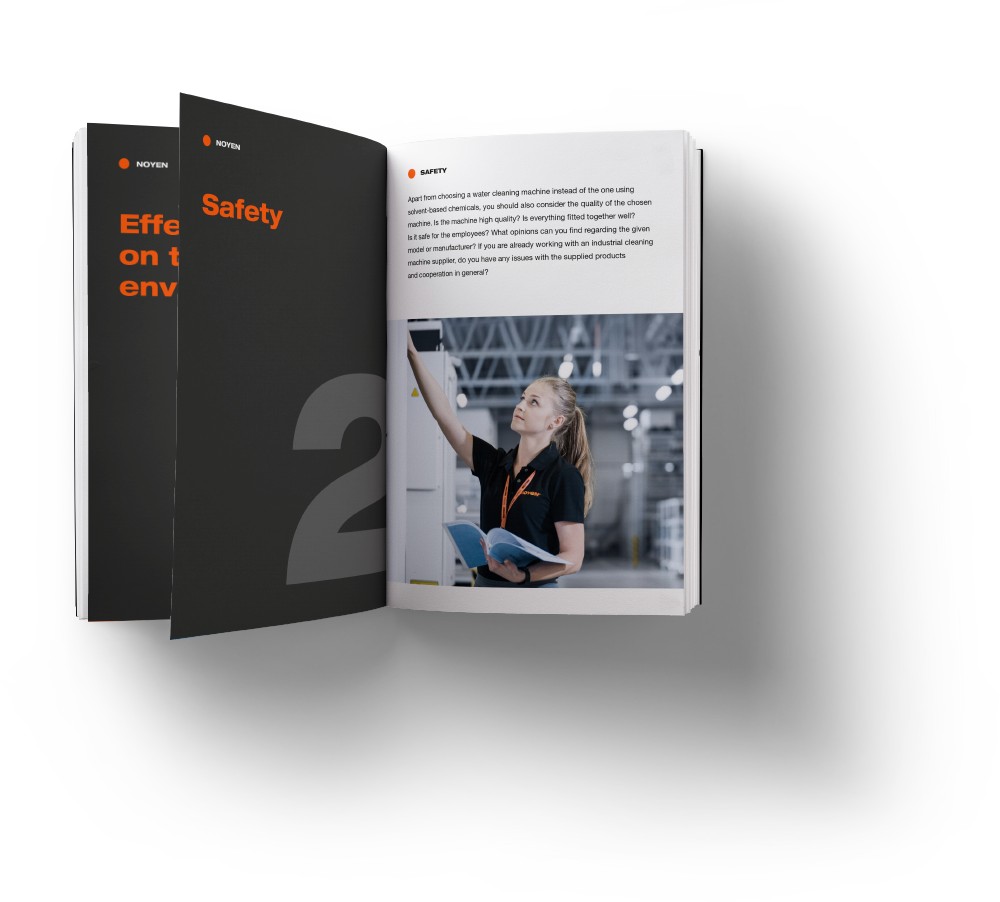 When you run out of steam
Solving problems with industrial parts cleaning is our bread and butter. Check out 5 things to consider when choosing a basic machine for industrial parts cleaning and draw conclusions that could vastly improve your work quality.
Not "how" or "if" but: "when"!
Tracing the product on each stage of production, 2D laser marking, QR code scanners, vision systems, error proofing, communication with databases you are already using – everything managed with a tablet. Surprise us or find out what our Customers have to say. If you are ready to automate, we already have the design.
In

metalworking industry

The process effectiveness, machine quality and offered technology meet all our expectations. In addition, Noyen Sp. z o. o. has professional approach and reliable technical service, therefore we can recommend them as a business partner.

Case: Installation of Compact 100 and Compact 400 cleaning machines with automatic loading. Installation of a machine testing tightness of casts.

In

Automotive industry

The machines we received work very well and the washed parts have a high level of cleanliness. The cleaning machines are simple, but highly modern, which provides high quality of cleaning, vastly reduces the operating cost and makes the machines easy to operate as well as environmentally friendly.

Case: installation of two spray cleaning machines equipped with unmanned automatic loading and unloading systems.

In

heating industry

I wholeheartedly recommend Noyen as a competent supplier of industrial solutions who has both knowledge and experience in this regard.

Case: Increasing the efficiency of copper part pickling after soldering.
Bulletproof process
Noyen designs and builds cleaning machines, automation, chemicals and much more. Everything is adjusted to your individual needs. The product creation process is always based on consultation. Before we present you with an offer, we determine the requirements and specifics of the solution. We conduct cleaning tests on parts, do initial try-ons – everything to find and offer you the best solution possible.
You can see our progress at every stage of production, for example in the form of 3D models. You can always count on our support. We will train your employees in machine operation and our service team will oversee the machine's work after it is started.
We determine the requirements and specifics of the solution
We perform process testing
We make the progress available to see
We support you during implementation
We train your employees in machine operation and use
TALK TO A SPECIALIST
We set industry standards
We know it is not enough to have perfect products. They also have to be adjusted to the specific needs of various industries. Hundreds of companies use our solutions in following industries:
Automotive

Aerospace

Fasteners

Metalworking

Coating and sanding

Medical

Printing

Remanufacturing

Home appliance

Electronics

Construction

Railway
Nothing is impossible.
It will be easier if you just tell us everything. Save your time and make use of your free consultation. Our expert will advise you for free.
Get even more out of automation
Chemicals
Support and care in the cleaning process management. We provide professional, effective, safe and environmentally friendly industrial chemical products, as well as help in using them.
SEE MORE DETAILS
Servicing
Our machines are supported in every part of the world with modern technology and innovation. The service team will help you face every challenge so that your production will not have to stop even for a moment.
SEE MORE DETAILS
Training
Efficient use of resources, correct use of products and machines, sustainable growth – this can all be learned. We can share the knowledge we amassed during 20 years of our experience with your company, during interesting training sessions.
CONTACT US
Robotic process automation
Production process automation is one of the key factors when it comes to improving a company's competitive advantage. The possibility of ensuring repeatability and precision of production, improving its efficiency and reducing the costs of the process has a positive effect on the company's financial performance. Why is it worth automating production processes?
What is robotic process automation?
Automation in a manufacturing process may be conducted in various sectors of the industry. Recently it has become a popular solution. Process automation, carried out under the supervision of professionals, can significantly increase the company's competitiveness. Automation is a good solution in case of repetitive operations, which require special precision. Process automation in such a case allows reducing the risk of human error and avoiding the related consequences. The undisputed benefit of production automation is enhanced control over the quality of products. As a result of implementing automation, you can also improve the company's work efficiency.
Machine automation is usually implemented by large companies wanting to improve their processes, but small and medium-sized enterprises are also using this solution more and more often. In the current reality, robotic process automation is a basic step to maintain competitiveness and an opportunity to develop and acquire new contractors. The production automation process is also important for the safety of employees. Production processes in the industrial sector are sometimes associated with conditions harmful or dangerous to human health. For this reason, their automation helps to improve the general level of working conditions and safety in an industrial hall.
Automation in remanufacturing process – why is it important?
Increasing competitiveness is one of the main reasons why companies decide to automate their production. This applies to both technological and pricing issues. Process automation also allows you to ensure continuity of work, and at the same time avoid the negative effects of various types of crises that may lead to significant production delays, financial and image losses. Automation is therefore important security for companies in terms of the continuity of their production processes.
In the present reality, along with the dynamic development of modern technologies in the industrial sector, technical requirements for products are constantly increasing. The implementation of new solutions is crucial for maintaining competitiveness, as it allows to increase the number of orders completed in a given period, ensure higher quality and reduce the risk of delays.
Robotic process automation tools – NOYEN
NOYEN, thanks to its experience in designing and producing comprehensive solutions for the industry, automates cleaning processes in enterprises and ensures their integration with various machines, including loading and unloading systems or processing machines. In the case of production automation, it is also important to implement elements of Industry 4.0. They create new possibilities in the field of production management – its quality and efficiency – resulting from the collection and processing of information from the machines involved in the production process. NOYEN experts design tailor-made solutions. Professionally implemented process automation allows you to optimize the work of the company and strengthen its competitiveness.
NOYEN's offer includes not only standard machines as NOYEN Compact 100, but also process automation solution based on Robotics and Metrics series. NOYEN Robotics are the devices fully adapted to the process. They allow robot process automation and ensure the integration of the cleaning process with other machines used in the production process. These are solutions tailored to Industry 4.0. The traceability systems are used to track the product at every stage of the process, it is also possible to communicate with MES systems and SQL databases as well as convenient and intuitive operation via a tablet. NOYEN Metrics devices were designed to automate measurement and quality control. They are characterized by the possibility of integration with existing production lines and cooperation with other devices. Machines in this series ensure the highest quality of measurements directly in the production environment. Do you need more information about our machines, process automation or ISO cleaning services? Contact us – our experts are waiting for you!