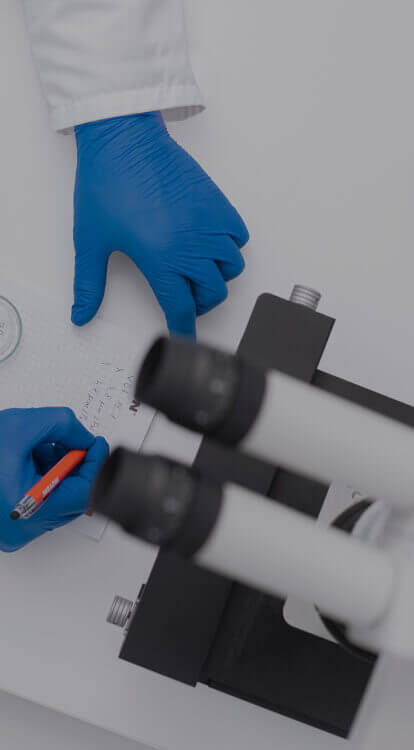 Laboratory
Microelemental. Macroprofitable.
Microelemental testing will help your company to introduce and optimise cleaning processes as well as achieve above-average technical cleanliness quality.
Laboratory testing
In our laboratory we can carry out:
Technical cleanliness tests according to VDA 19.1 and ISO16232 norms

Corrosion resistance tests

Tests and measurements of paint coatings and their adhesion

Testing the quality of conversion coatings, i.e. the degree of surface preparation prior to painting

Physicochemical testing of liquid samples, e.g. acid-base titration,
pH measurement or conductivity testing

Surface wettability tests according to ISO8296 norm
Well-know matter
The road to perfection is simple and short.
Tell us about your problem during your free consultation. This will allow us to launch proven research processes and use extensive diagnostics to develop the optimal solution for you. You have a 90% chance of us solving your problem in 100% after the first conversation.
WHAT WE CAN TEST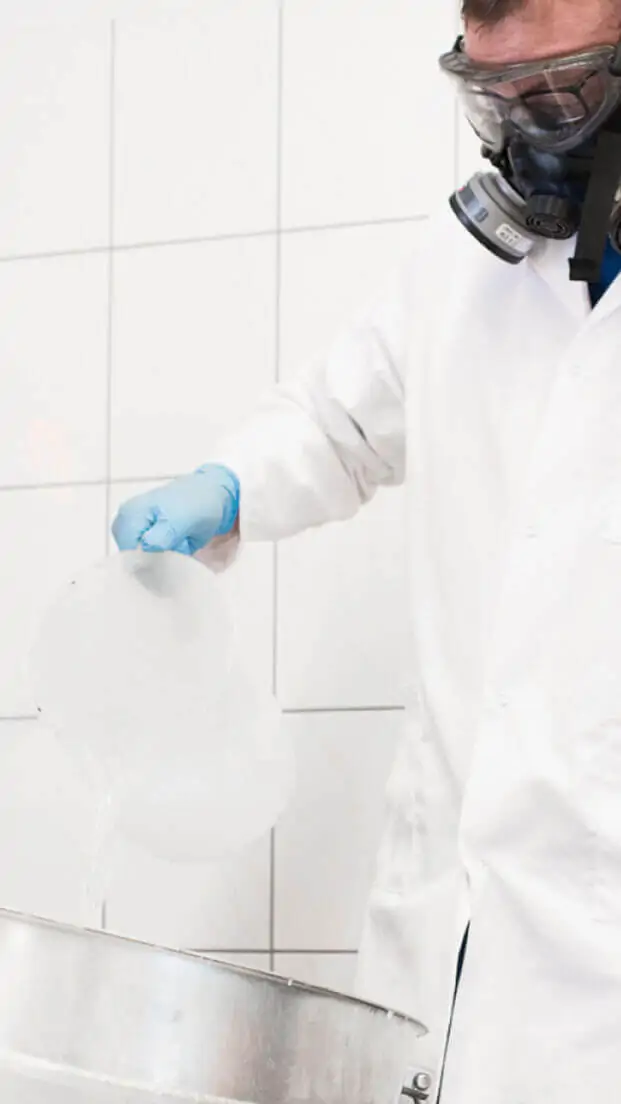 Full scan
Based on testing, analysis and assessment of cleanliness levels according to VDA 19.1 and ISO 16232 norms, you know exactly what you provide to your customers. You will receive detailed reports with photos and descriptions promptly - by e-mail.

We will select the best industrial cleaning technology, with the required performance and quality of parts cleaning and, most importantly, with optimised cost of operation.
We will carry out for you:
An analysis of preliminary data and process assumptions

Laboratory tests to select the chemical product and the optimal cleaning method

Trial cleaning of your workpieces according to defined parameters

Quality control of your workpieces after cleaning

A detailed test report, which will be sent directly to you
SIGN UP FOR A FREE CONSULTATION
Highest standards
Exceptional quality requires state-of-the-art equipment. With high-end equipment, we can carry out even the most demanding orders.
SEM-EDX electron microscope - used to analyse the elemental composition of samples, imaging surfaces at up to 100,000 times magnification.
JOMESA microscope - with polarised light for the detection of metallic particles, for automatic measurement of the number and size of particles
Zeiss microscope - with polarised light for the detection of metallic particles, for automatic measurement of the number and size of particles.
Climate chamber - in which we carry out tests of varnish coat resistance, under condensation conditions. With the option of UV exposure.
Salt chamber – for tests involving salt spray. The test determines the corrosion resistance of metals and protective coats.
Extraction chamber - for extraction and evaluation of cleanliness levels according to VDA 19.1 and ISO 16232 norms.
Equipment for physicochemical testing of liquid samples.
All our testing methods and equipment is supervised in accordance with ISO 9001.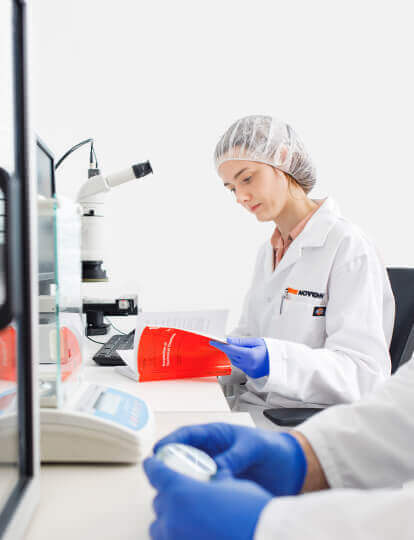 NOYEN quality.
One-off audit or ongoing service.
Nothing is forever, which is why we do not expect you to declare permanent cooperation. We can accept a one-off trial assignment, support you on a recurring basis or without a specific schedule. 97% of our clients commission us for unusual projects.
We will plan and implement a process tailored to your individual needs. Working out a good collaboration always requires a conversation.
We will equip
your laboratory
We offer:
Support in the design and equipment of control and measurement laboratories or cleanrooms

Consultancy on the selection of control and measuring equipment

Support/consultancy in the development of workplace procedures

Training of employees in the area of laboratory requirements and tests

Support during external audits
You have an external audit and need support? No problem!  We are here for you. Contact us and we will help you through the process.
Professional cleaning audit - for pure certainty
Parts must meet strict technical cleanliness standards. Every time – so cleaning accuracy must be repeatable. We can measure it precisely.
The service life of components and subassemblies can be extended when their components are free of contamination. This is why it pays off to keep things clean.
Do you know how contaminated your parts are? Our audit will answer this question and indicate the next steps towards achieving adequate cleanliness.
We carry out technical cleanliness audits in accordance with the VDA19.2 norm.
We check the main elements of your production process in the areas of assembly and manufacturing or transport and logistics. We also examine the impact of the environment and external factors on the quality and cleanliness of the process.

We analyse the risk, checking if the process requirements are actually met during production and if your quality management system contains the necessary guidelines for technical cleanliness.

The result of our work is a comprehensive report, the so-called ACTION PLAN.

It identifies critical points in the production process and contains the most important guidelines for the optimisation and quality improvement.

But our support does not end there! We are always there for you and ready to help you.
Let there be cleanliness.
We remove dirt from parts made of metal, plastic and glass, of any size and complexity: from simple components the size of a milimeter to large parts with advanced, complex shapes. Surprise us or find out for yourself what our Customers say. We are ready for any requirements when it comes to parts cleaning.
In

metalworking industry

The process effectiveness, machine quality and offered technology meet all our expectations. In addition, Noyen Sp. z o. o. has professional approach and reliable technical service, therefore we can recommend them as a business partner.

Case: Installation of Compact 100 and Compact 400 cleaning machines with automatic loading. Installation of a machine testing tightness of casts.

In

Automotive industry

The machines we received work very well and the washed parts have a high level of cleanliness. The cleaning machines are simple, but highly modern, which provides high quality of cleaning, vastly reduces the operating cost and makes the machines easy to operate as well as environmentally friendly.

Case: installation of two spray cleaning machines equipped with unmanned automatic loading and unloading systems.

In

heating industry

I wholeheartedly recommend Noyen as a competent supplier of industrial solutions who has both knowledge and experience in this regard.

Case: Increasing the efficiency of copper part pickling after soldering.
Bulletproof process
Noyen designs and builds cleaning machines, automation, chemicals and much more. Everything is adjusted to your individual needs. The product creation process is always based on consultation. Before we present you with an offer, we determine the requirements and specifics of the solution. We conduct cleaning tests on parts, do initial try-ons – everything to find and offer you the best solution possible.
You can see our progress at every stage of production, for example in the form of 3D models. You can always count on our support. We will train your employees in machine operation and our service team will oversee the machine's work after it is started.
We determine the requirements and specifics of the solution
We perform process testing
We make the progress available to see
We support you during implementation
We train your employees in machine operation and use
TALK TO A SPECIALIST
We set industry standards
We know it is not enough to have perfect products. They also have to be adjusted to the specific needs of various industries. Hundreds of companies use our solutions in following industries:
Automotive

Aerospace

Fasteners

Metalworking

Coating and sanding

Medical

Printing

Remanufacturing

Home appliance

Electronics

Construction

Railway
Nothing is impossible.
It will be easier if you just tell us everything. Save your time and make use of your free consultation. Our expert will advise you for free.
Get even more out of cleaning
Chemicals
Support and care in the cleaning process management. We provide professional, effective, safe and environmentally friendly industrial chemical products, as well as help in using them.
SEE MORE DETAILS
Servicing
Our machines are supported in every part of the world with modern technology and innovation. The service team will help you face every challenge so that your production will not have to stop even for a moment.
SEE MORE DETAILS
Training
Efficient use of resources, correct use of products and machines, sustainable growth – this can all be learned. We can share the knowledge we amassed during 20 years of our experience with your company, during interesting training sessions.
CONTACT US